WE FOCUS ON DEVELOPING THE INTRODUCTORY SKILLS TO EXCITE THE YOUTH OF OUR COMMUNITY TOWARD AN ATHLETIC CAREER, ON THE ICE!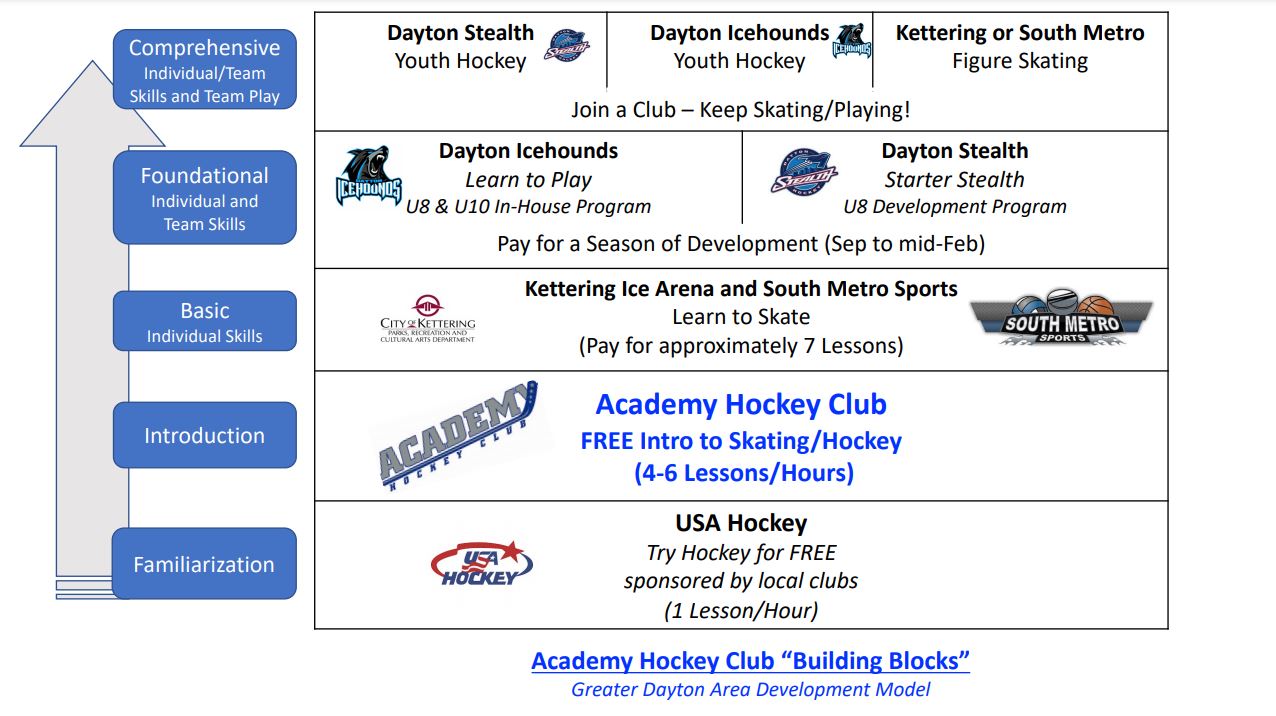 FAMILIARIZATION:
If you are interested in a brief introduction to hockey or skating with minimal commitment, we recommend registering for a "Try Hockey for Free" or "Try Skating for Free" event offered at any of the local programs below.
Kettering Synchronized Skating Team
INTRODUCTION:
If you are interested in learning more of the skills and techniques of skating/hockey or enjoyed the "Try Hockey for Free" or "Try Skating for Free" event and wish to learn more, we recommend our free Academy Hockey Program below.
The Academy Program offers:
5 weeks free lessons for Elementary and Middle School-aged youth
Learn to Skate then Learn to Play, based on Learn to Skate USA & USA Hockey Learn to Play curriculum
Continued development through local clubs
Initial basics of skating, then advancement into passing, puck handling, and shooting
1-2 session offerings per calendar year, depending on community interest
Upcoming Session(s):
Please register here to be notified of an upcoming clinic offering.

It's Never too late to learn" to play hockey

This is for developmental players with zero/no experience, to less than 2 seasons experience — middle school and high school players.  Our goal is to get players started in 6-8th grade, so when they hit high school,  they are ready to play on their high school OHSAA teams. So please pass the word!

Only 25 slots are available, so make sure to register. Academy can help with slightly used gear for newbies.

Never Too Late to Learn skates:

(Next session date will be announced as soon as they are scheduled)
What to Expect / What to Bring:
Skate rental is available at no charge. We will have older players to help tie skates and be on the ice with the kids. We encourage those players who have access to full equipment to bring it with them. A limited supply of equipment is available, but please bring:
Loose fitting sweat pants or snow pants
Loose fitting sweat shirt, hoodie, or hockey jersey
Helmet (hockey helmet or bike helmet are okay)
Gloves/mittens (any kind)
No prior skating experience is necessary!  All you need is some patience, effort, and a positive attitude.  Our USA Figure Skating and USA Hockey certified instructors will give you the basics during this 5 week session.