Academy Hockey is proud to sponsor a number of free open skates to the public.  We will also have a skating instructor on hand for those who would like to get some free tips.  Our goal is to help develop skating skills of kids in the area that may in turn help them become better hockey players. So please pass the word!
2023:  10, 17 November:  8, 15, 22 December:
2024:  12, 19, 26 January:  2 February
6-6:50 pm at South Metro Sports.
(Congratulations to the RED team as winners of the 2023 Academy Hockey Club fall league!
2nd place- black, 3rd- White, 4th-Green)
ACADEMY HOckey CLUB SuMMER News

We hope that you all are having a great summer!  Below is some information / dates to make you aware of and help you plan for this upcoming season.
Academy 4v4 no checking FALL LEAGUE will be at South Metro Sports on Saturdays and Sundays at 11am and Noon beginning Sept 9 & 10 and running through October.  Registration is OPEN.  You MUST have your player's 2023-24 USA Hockey registration number to sign up.  As you know this sells out every year, so make sure to let your players know to get registered. https://ahshc.sportngin.com/register/form/514513992.
NUGS tryouts will be Sat. Aug 12 & Sat. Aug 19 from 12:15pm-1:50pm at South Metro Sports, with season running from Aug-Oct. Coach Tony Morris has done a phenomenal job with this elite pre-post team!!  Registration for NUGS tryouts is CLOSED & players must register & pay online.  You MUST have your player's 2023-24 USA Hockey registration number to sign up...
 Academy FREE Never too late to Learn program runs every Nov-Feb. Great way for the developmental or new kids to get ice. Elementary and HS age groups welcome. More to follow.
CONGRATS NUGS!
2023 Cleveland Rock 'N Roll Tournament CHAMPS !!!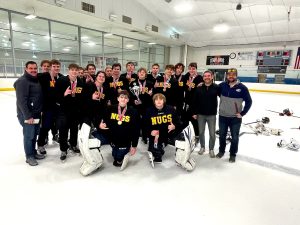 April 23, 2023
 2023 SWOHSHl All Star Game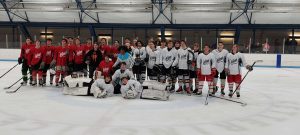 The Academy Hockey Club sponsored 2023 SWOHSHL All Star game which was played on March 4th at the Kettering Rec Center.  The following players were selected as All Stars by the SWOHSHL Coaches:
1st Team All SWOHSHL All Stars
Luke Lance (Alter SR Forward), Liam Reilly (Alter SR Defense), Grant Russell (Alter SR Goalie), Carson Cox (Beavercreek SR Defense), Joey Donahue (Beavercreek SR Forward), Ian Champagne (Beavercreek JR Goalie), Riley Hanson (Beavercreek SR Defense), Alex Elsner (Beavercreek JR Forward), Charlie Hafner (Elder SR Forward), Aidan Albers (Mason SR Forward), Cameron Lombardo (Troy SR Defense), Brady Smith (Troy SO Forward), Gaven Burris (Troy SR Forward)
2nd Team All SWOHSHL All Stars
Adam Rider (Alter JR Defense), Danny Mahoney (Alter JR Forward), JJ Lehman (Beavercreek JR Defense), Chad Dejong (Beavercreek SO Goalie), Rudy Hoffmyer (Elder SR Defense), Casey Sullivan (Elder SR Forward), Collin Keough (Mason FR Defense), Brendan Canham (Mason SO Defense), Nicky Das (Mason SR Forward), Cooper Sexton (Troy SO Defense), Noah Carver (Troy JR Goalie), Collin Burghardt (Troy JR Defense)
HONORABLE MENTION SWOHSHL All Stars
Ty Ferguson (Alter SR Defense), Sam Linden (Alter SR Forward), Joe Martin (Beavercreek SR Forward), Owen Huff (Beavercreek SR Forward), Andrew Onorato (Elder SR Forward), Ian Francis-Knott (Troy SO Forward), Ben Brinker (Elder JR Goalie)
Team White ended up beating Team Red in the All Star game 8-5.  Congratulations to all of the 2023 SWOHSHL All Stars!!
Team White
Goals: Elsner (3), Mahoney (2), Lehman, Francis-Knott, Hanson
Assists: Hanson (3), Burris (2), Mahoney, Lehman, Burghardt
Saves: Brinker (13), Russell (13)
Team Red
Goals: Smith (2), Lance, Rider, Donahue
Assists: Smith (2), Ferguson, Lombardo
Saves: Carver (19), Dejong (10)
2023 POD Tournament Results
Congratulations to the Worthington Kilbourne Wolves for winning the 5th annual Post Ohio District (POD) Tournament!  Congratulations also to the Beavercreek Beavers for finishing 2nd and the Clay Eagles for capturing the third place trophy.
Special thanks to the NTPRD Chiller staff, the officials, the trainers, and to all of you that volunteered your time this weekend to ensure that this tournament was a success!  Thank you as well to all of the teams for playing in the tournament this year and we hope to see you all back in 2024!
Academy Hockey Club is a non-profit organization focused on increasing participation in ice-sports in the greater Dayton/Cincinnati area. Our goal is to provide FREE learn to skate/play opportunities for area youth — because we strongly believe sports creates better citizens.
Please click on the link below to donate:
Your support to Dayton area Learn to Skate/Play and high school ice hockey is so important and deeply appreciated.  The Academy Hockey Club is THE area organization dedicated to building and developing playing skills and good character at both the Learn to Skate/Play hockey level and at the high school hockey level in southwest and central Ohio.
Only 25 slots are available, so make sure to register. Academy can help with slightly used gear for newbies.
Never Too Late to Learn skates:
(Next session dates will be announced as soon as they can be scheduled)